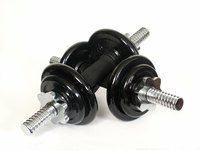 The butterfly exercise, using dumbbells, is an exercise that targets the chest, or pectoral, muscle group and can be a very effective exercise to help develop muscular strength and muscular endurance, depending on how the exercise is performed. Either way, correct technique is imperative to ensure your time is not wasted performing this exercise and that you are not putting yourself at risk for injury.
Things You'll Need
Two dumbbells of appropriate weight
Start by choosing two dumbbells of appropriate weight to use for this exercise.
Lie on a flat bench, face up, holding the dumbbells at your chest.
Extend your arms so that the dumbbells are directly above your chest, with your hands in a neutral position, or palms facing inwards.
Slightly flex, or bend your elbows outwards to finalize the starting position of the exercise.
Slowly allow your arms to lower towards the floor in an arc-like motion. Make sure you do not bend your elbows.
Once your arms are parallel to the floor, immediately return them to the starting position by contracting, or squeezing, your chest muscles.
Repeat the movement for 10 to 12 repetitions over two to three sets.