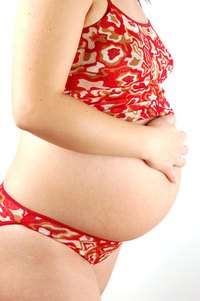 The average woman has a 28-day menstrual cycle, with ovulation generally occurring around 14 days from the onset of her last menstrual period (LMP). Because this can vary, it is impossible to pinpoint the exact day of conception. However, a pregnant woman's due date can be estimated by using the date of her LMP. This method takes into consideration that conception occurred roughly two weeks after her period began. This type of calculation may be done manually or by using online due-date calculators.
Calculate the Due Date Manually
Determine the date of the pregnant woman's last menstrual period.
Add seven days to the date of her last period.
Add one year to figure the estimated due date.
Calculate Using a DueDate Calculator
Go to a website with a due-date calculator.
Enter the date of the last menstrual period using the drop-down menu.
Enter the length of the pregnant woman's cycle, if known. Average length is 28 days, although this may vary from one woman to another. The cycle length begins the first day of a woman's menstrual period and ends the day before her next one begins.
Click "Calculate" to get the estimated due date.