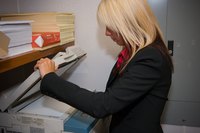 One of the many advantages of digital copiers is their ability to be connected to a network and serve as an office printer, scanner or fax machine. The Canon IR4570 is a 45-page-per-minute digital multifunctional copier capable of being connected to a network. Once connected, the IR 4570 produces prints at full engine speed and affords users advanced printing options, such as double-sided printing, stapling and collating.
Things You'll Need
Install print drivers on the print server. The print drivers come on CDs with the iR4570 or can be downloaded from the Canon website.
Connect iR4570 to the network using a Category 5 network cable. For the iR4570 to receive print jobs, it must be connected to the network via a network cable.
Assign an IP address to the iR4570. Pressing the "Additional Features" button on the main panel of the iR4570 brings up a menu. Under the "Printer Settings" tab, enter the IP address that you want to assign.
Load drivers on the computers of users who have access to the iR4570. Drivers can either be loaded on each computer or pushed from the server.
Print test pages to check the connection. Testing from the server and from each connected computer ensures a successful installation.