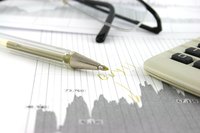 Canadian stocks and bonds are traded on national exchanges including the Toronto Stock Exchange (TSX) and Canada's New Stock Exchange (CNQ). Index funds are mutual funds that mirror the holding in any one exchange, giving investors an easier way to monitor returns on investments. As the index rises and falls, true index funds rise and fall accordingly. U.S. citizens can invest in Canadian index funds with a domestic brokerage account that allows international investing.
Open a brokerage account with a firm that allows international holdings. Many full-service firms such as Merrill Lynch and Paine Webber have these services as do online discount firms such as e*Trade and Charles Schwab. Your account may need a special "global trading" designation to monitor the international holdings for tax withholding.
Use online third-party research sites such as Morning Star or Yahoo! Finance to locate index funds that meet your investment objectives. The RBC Canadian Index Fund is an equity fund where CIBC Canadian Bond Index Fund has more than 900 Canadian bonds.
Choose the index funds you wish to purchase. Request a prospectus from your brokerage firm or directly from the index fund provider. Read through the prospectus so you fully understand the fees, terms and risks of your investment choice.
Fund your account with the amount needed to buy the index fund. You can fund most brokerage accounts with a check, money order or electronic funds transfer.
Buy the fund by calling your brokerage firm or placing a buy order through your online account. The prospectus will have the fund symbol which should be used when buying to ensure you get the right fund and the right class of shares.