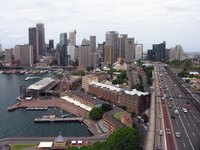 Incorporating, or registering a company in Australia, is done through the Australian Securities & Investments Commission (ASIC). Although it costs more than simply registering your business name, incorporating safeguards your company's name from being used by other businesses in all states in Australia, not just the one you are operating in. If you are not a resident in Australia, the easiest way to incorporate a company is to find a lawyer or an accountant to process all the necessary paperwork on your behalf. However, the online service is extremely convenient, fast and efficient.
How to Incorporate a Company in Australia
Select a business name. Your chosen name must state your company's legal status. For example, if your company is liability limited, the name must include "Limited" or "Ltd." If it is a proprietary business, then the word "Proprietary" or "Pty." must also be stated in the name. The chosen name must also be checked against a list of names managed by the National Names Index, which registers all business and company names that have been registered in Australia to ensure that names already in use are not selected for new companies, or that offensive or special words (e.g. "trust," "university," "government") are not used.
Get written consent from company staff. The staff you need to obtain these approval letters from are the company director(s), secretary and at least one member of the company. These letters of consent or agreements do not have to be submitted at the time of company registration; however, they must be available to the company after it is registered and must be stored together with all of the company's official records.
Fill out the application Form 201 (Application for Registration as a Company). Complete details including the proposed business name, the company classification and type, office details, share structure information, as well as details regarding the directors, secretaries and members. Submit the completed form and the correct application fee to the ASIC office in Victoria, or in person at a local ASIC Service Centre, or to your local ASIC representative.
Wait for the Certificate of Registration. This will be mailed out to you and include the company's Australian Company Number (ACN), the company registration as a body corporate, and the company's registered name.