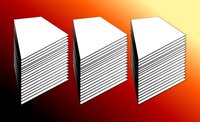 Producing a catalog requires a lot of time and thought. After assembling a list, preparing photographs and writing item descriptions, you must turn to focusing on production. The images and the paper you choose are key to a catalog's success. When choosing paper, remember this will be the only thing your customers actually touch, so its "feel" is very important. There is no one-size-fits-all; find the right fit for you and your products.
Decide the parameters for your catalog: budget, number of catalogs you want printed, number of pages (must be in multiples of four), page size and how you want your catalog to look and feel.
Look at samples. Printers store paper in-house, but if they have to order special paper for your project, it will be more expensive. Printers should store the papers they know will work best on their presses, so ask for recommendations.
Determine the finish and weight. Paper is generally divided into categories known as "coated" or "uncoated." A coated finish is glossier, but more expensive. Uncoated paper feels more textured and is more economical. Paper weight for catalogs range from 40 to 100 lb., but most catalogs use 60, 70 or 80 lb. weight. Keep in mind that "thickness" or "points" are two other terms used to describe a paper's weight.
Meet with your printer to determine the printing logistics. Find out what printing method or presses your printer uses. To use coated paper, your catalog will need to be printed on a sheet-fed press, digital press or hot-set web press. Hot-set web presses use heat to dry the ink as the pages are printed. A cold-set web press limits you to uncoated paper because the ink is absorbed into the paper as it air-dries and coated paper does not absorb well on its own.