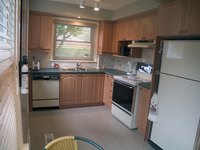 Kitchen cabinets are a necessity for comfortable living in every home. Cabinets allow individuals the ability to properly store food and other items, as well as establish a base for sinks. Over time, cabinets become worn and fall apart, creating an appearance that is no longer acceptable to homeowners. A kitchen remodel is a very important project and usually only happens one to two times during the life of a home, which is why the commitment to the cabinets is so important. Establishing a kitchen cabinet dealership will allow you to earn a reliable income while building long-term relationships with clients.
Things You'll Need
Internet access
Printer
Paper
Envelopes
Stamps
Pen
Business license
Camera
Create a business plan and apply for a business license. Determine how much you are willing to invest in your company in order to maintain a reliable profit. Visit http://www.business.gov/register/licenses-and-permits/ to apply for a business license or find a location in your town. A business license usually costs less than $100 depending on the state you are applying in.
Visit http://www.grants.gov to determine if any grants are available for you. The government continually offers loans and grants for entrepreneurs and business owners in order to expand or develop their companies. Fill out any applications for grants you qualify for.
Contact cabinet manufacturers. Call the manufacturer's main phone number. Mail letters to the company's headquarters. Let them know you are opening a business and want to sell their cabinets. Find out as much as you can about the company in terms of cabinet costs, manufacturing time, options available, shipping costs and any other questions you may have.
Establish a location for your business. Find a cabinet warehouse that allows ample storage for all of your products.
Make a layout for your warehouse. Create several different display areas. This allows potential customers the opportunity to visualize several cabinet types and styles in their home before purchasing. Secure storage areas so you can have products on hand in a safe area.
Advertise your business. Send letters out to local residence with photos of your display room. Create online ads as well as local newspaper ads to let people know about your company.