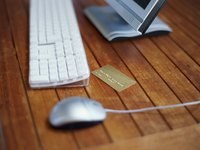 Credit and debit card fraudsters caused over $11 billion in business losses in 2012. Card issuers, such as banks, experienced 63 percent of these losses at checkout counters and other point-of-sale terminals. Online and mail order merchants, along with merchants processing sales for "Card Not Present" customers, fell victim to the remaining 37 percent of losses. Quickly recognizing a fake credit card stops a fraudulent transaction in its tracks.
Account Number Clues
Card-savvy merchants already know how many digits each issuer's card should display. For example, a Visa card sequence begins with a "4" and incorporates 13 or 16 digits. MasterCard cards always start with a "5" and are 16 digits in length. American Express cards begin with a two-number sequence, a "34" or "37," and are 15 numbers long. Credit cards that do not follow these guidelines may be counterfeit.
Card Appearance
An authentic credit card always displays evenly spaced and aligned numbers. In contrast, credit card counterfeiters use a device that embosses one number at a time on the plastic surface. If the counterfeiter rushes his work, you will see inconsistent spaces between numbers. The number string's horizontal orientation also might be affected, causing the row of numbers to have a slightly wavy look as some numbers appear higher or lower than others. To help merchants distinguish real credit cards from fake ones, some banks have begun issuing flat, non-embossed cards to its customers.
Check the Back
A careless credit card counterfeiter also leaves obvious clues on the credit card's reverse side. If the numbers on the card's front and back do not match, the card is suspect. A customer signature panel that is painted or taped over, or otherwise tampered with, raises another red flag. Any magnetic stripe tampering or destruction also signals a problem with that card.
Unusual Customer Behavior
Observant checkout and point-of-sale personnel can gain valuable clues from the credit card user's behavior. If the customer seems especially nervous or anxious, or attempts to rush the transaction through quickly, that card might be worth a second look. If the card issuer provides a discreet method of verifying that card immediately, the employee might be able to stop that fraudulent transaction and save the card issuer and merchant from a loss.