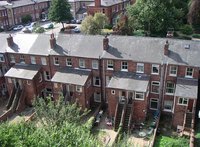 A property scout will make money when he locates a home for a real estate investor or company. You will make a set fee such as $3,000 per deal. Or you will earn a portion of the home sales price such as 3 percent on a $200, 000 home transaction. You will get your funds once the deal has closed, so prepare to wait a number of months to get your money.
Network with real estate professionals in your area. Connect with groups, such as a real estate investors association in your town, so you can let the members know that you find houses for a fee. Go to the weekly meetings this group holds, and determine what type of properties you need to locate for a fee. For example, some investors may prefer properties with renters; others may like vacant homes; and other investors may want to deal only with commercial real estate.
Talk about your previous real estate deals. Let people know what types of investments you have found in the past, so they can get an idea of the quality of your work. Have a list of previously satisfied clients that potential clients can call to vouch for your abilities.
Contact companies that oversee homes for rent in your city. Travel to these companies and offer your services. Let them know you can find them individuals who want to rent their homes for a fee. Ask these groups for the section of town where they own homes. This will help you to find renters in a certain area and quickly find a place for them to live.
Establish the fees you will charge. Prior to finding any homes for your clients, come to an agreement that includes the fees you will earn for each property you find. Make sure you have the person who will pay you the property finder fee sign the paperwork to protect all parties involved.
Find the leads you will pass on to your customers for a fee. Look for homes that have overgrown lawns, broken windows, and appear vacant. The owner of this type of property may often sell their home for far below market value because of its condition and the fact that it is vacant. You can find these owners by looking in the property records of your city or county.