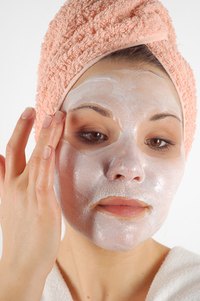 Whipping up a facial mask using everyday ingredients from the kitchen is simple and can be done quickly. Using a homemade mask once or twice a week is cost effective and gives the skin a break from harsh chemicals found in many skin care products, particularly those that target acne. For instance, cucumber juice is a soothing and healing aid to the irritation that acne products can cause.
Things You'll Need
1/2 cup finely ground oatmeal
1/2 ripe apple
1/4 cucumber
2 tablespoons milk
Kitchen blender
Cucumber-Apple Mask
In a blender, finely grind 1 cup or more of regular oatmeal down to 1/2 cup.
Chop the apple and cucumber into chunks and put into a blender with the rest of the ingredients.
Blend to a smooth paste and apply evenly to clean skin, keeping clear of eye area. Let it sit for 20 minutes before rinsing well with lukewarm water. Follow up with a few splashes of cold water.
Apple-Honey Mask
Grate 1 medium sized apple finely and mix in 5 tbsp of slightly heated honey.
Apply evenly to clean skin, staying clear of the eye area and let sit for 10 minutes.
Rinse well with lukewarm and then cool water.
Pumpkin Mask for Oily Skin
Combine 1 cup pureed pumpkin, 1 egg white beaten to soft peaks and 1 tsp honey.
Spread evenly over face, avoiding the eye area and let it sit for 15 to 20 minutes.
Rinse with lukewarm and then a few splashes of cool water.
Gentle Egg White Mask for Oily Skin
Combine 1 egg white whipped to a foam and 1 tsp fresh lemon juice.
Apply to face, avoiding eye area. Let it sit for 5 minutes and then apply a second layer.
Sit for another 20 minutes before rinsing with lukewarm water. Finish off with a splash of cold water. This mask acts as a temporary face lift in addition to removing excess oil.