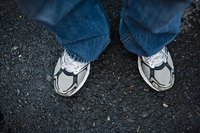 Adding brands to a retail establishment most likely will increase customer traffic and sales. Brands such as Nike offer performance activewear, as well as footwear for a variety of sports. Men, women and kids have a wide selection of categories to choose from, making it appealing to new retailers to carry the brand. All retailers must be approved by Nike as a new vendor. The retailer must supply specific information and an application packet will be supplied by Nike. The retailer must be approved to qualify as a vendor.
Visit the nike.com home page. Scroll to the bottom of the page and click on the "About Nike/Jobs" link. You will be redirected to the next page.
Review the options on the left hand side. Scroll to the "Frequently Asked Questions" (FAQ's) and click on it to open the page.
Scroll down the list of questions until you reach the "Selling Nike products as a New Account." Click on it to be redirected to a separate page that will explain the criteria you will need to submit.
Contact Nike's Customer Information group by email. You will need to send your customer contact name as well as email address, company name, and mailing address to m.newdoor.inq@nike.com. According to Nike.com, you will be sent an application packet within seven to 10 days. The application packet is free.