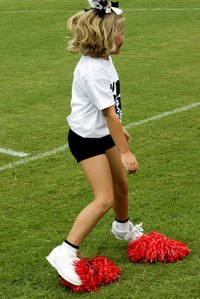 The mother of every cheerleader knows what cheer curls are. They are perfect, springy and as hard as concrete. Any girl's hair can be perfectly curled for a cheerleading competition; the trick is to start early. The purpose of cheer curls is to establish uniformity among the team and get the hair off the shoulders, but there's a specialness to it as well, a long-standing tradition. The girls wear their sponge rollers proudly, like a badge of honor.
Things You'll Need
Small sponge rollers (the number depends on hair length and thickness)
Extra hold hair spray or gel
Comb
Curler cover (large scarf or chignon cover)
Start two to three days before competition. Slick soaking wet hair into a tight ponytail high on the crown of the head. Put decorative hair band over elastic band before curling hair.
Starting at the bottom of the ponytail, separate a thin strand of hair. Roll curler tightly from the bottom, spraying each section of hair as you roll. When you reach the hairband, snap the roller shut.
Repeat step two until all the hair is rolled. Re-wet hair strands as necessary.
Hairspray the entire head and cover the rollers with a scarf or chignon. Do not remove rollers until competition day.
Remove the rollers, starting at the bottom. Smooth and repair hair that has come loose as necessary with hairspray and bobby pins.