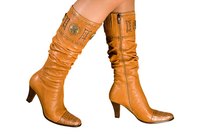 Transitioning from winter to summer requires you to air out your warm-weather clothes and clean and store your winter garb. Since you won't be wearing your leather boots during the summer, you'll need to store them as well. Leather boots are generally a sizable investment, and properly cleaning and storing them ensures that they will last for years to come.
Use a clean, dry toothbrush to brush off any dirt or salt, as these elements can damage leather. With a soft cloth, rub leather cleaner, mink oil or olive oil on your boots.
If any part of your boots need repair, such as the heels, take them to a shoe repair shop. Have them waterproofed there as well.
Fill two socks with baking soda, and tie them off. Insert a filled sock into each boot's toe bed. The baking soda will absorb any moisture and odor.
Create support for the boot calf by stuffing crumpled newspaper into each boot until the leg holds its shape. Another option is to insert an empty egg carton into each boot. Depending on the length of the boot, it may be necessary to stack a second egg carton on top of the first one.
Place your boots in their original shoebox, if possible, or in an appropriately sized storage bin with a lid. Ensure that the boots' toes point away from each other. Storing your boots horizontally in a box helps them maintain their shape and protects them from dust.