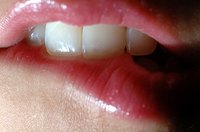 Protecting your lips from harsh sun or dry weather will keep them soft and supple. Instead of purchasing lip balm, which may be expensive or have low-quality ingredients and harsh preservatives, make your own from beeswax and essential oil. You can create it quickly in your own kitchen, using your favorite scents. All you need are a few basics, which should be easily available wherever you live.
Things You'll Need
2 teaspoons. beeswax
2 tablespoons sweet almond oil
Essential oil (citrus, rose, mint or lavender)
Straight pin
Vitamin E capsule
Glass measuring cup
Microwave oven
Spoon
Lip balm container
Place the beeswax and sweet almond oil into a glass measuring cup. Melt these ingredients in the microwave for 20 second intervals and stirring between each interval, until the beeswax melts. Remove from the microwave.
Allow the ingredients to cool slightly and then add up to six drops of essential oil to the mixture (Scent the ingredients as much as you desire). Stir well after adding the essential oil.
Insert the point of a pin into the Vitamin E capsule to puncture it. Squeeze the capsule over the glass measuring cup to add 2 drops of Vitamin E to the other ingredients. Stir well.
Pour the ingredients into a clean lip balm container, filling it to the top. Allow the lip balm to cool. it will harden as it cools.
Cover the lip balm container and store the lip balm at room temperature.