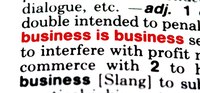 Leasing business space (as opposed to buying it) is preferred by many companies. Rent is tax-deductible as a business expense, and since the lease is temporary, the company will be able to relocate with relative ease, if necessary. A commercial lease is governed by the lease agreement between the business and the landlord. Unforeseen circumstances (such as a downturn in business) may require you to consider terminating a lease agreement. You must tread carefully, however; if you simply break the agreement, the landlord could hold you liable for costs and unpaid rent.
Review the lease agreement. Look for provisions in the agreement that allow you to break the lease or assign the lease. Each lease varies; often, a break clause or an assignment clause is negotiated into the lease prior to signing.
Follow the terms of the lease. Provide any required notice to the landlord. If the terms of the lease are "silent," continue through the steps.
Contact the landlord and arrange a meeting to discuss your options. Negotiate with the landlord to see if you can get out of the commercial lease early. Ask the landlord if he or she will consider a novation if you can find a new business to take over the space. A novation is a release of legal obligations.
Attempt to buy out the remainder of the lease. A landlord may be willing to accept a lesser lump sum value and agree to terminate the lease.