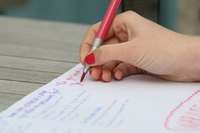 Certain unforeseen circumstances may arise that make it difficult, if not impossible, for you to meet your payments on student loans, mortgages or rent. If you are in need of requesting financial aid for any reason, it may be necessary for you to write a letter of intent to receive help. A financial request letter of intent must be open and honest, as well as provide the recipient with factual information on why you are deserving of receiving aid.
Write a salutation and address the recipient by name ("Dear Mr. Jones"). Even if you are sending multiple letters, take the time to address each one personally.
Write the introduction paragraph and let the recipient know who you are, that you are requesting financial aid and why. Do not beat around the bush; the recipient should know right away what the intent of the letter is.
Write the body of the letter and delve into more detail about why you need financial aid. Disclose only the most necessary personal information relating to your financial problem. State the facts of your story in an unbiased way; avoid whining or begging, no matter your current situation.
Write the conclusion paragraph and thank the recipient for taking the time to read your letter and for considering your request.