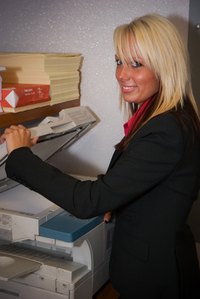 Ricoh Multi Functional Machines, like the MP 4001, have a document server that is resident on the disk drive of the machine. Documents can be stored into this document server for later retrieval or printing. Accessing, or connecting to, the document server is best done at the copier itself. Once in the document server, you can either store files for later use, print files previously stored or delete files no longer needed.
Press the "Store File" button on the touch-screen display. This button will be on the top left-hand side of the touch-screen display.
Wait for the document server menu to appear on the display, indicating that you are in the document server. You will see a list of stored files and locations if you have previously stored any files to the document server.
Exit out when finished. Closing out will bring you back to the main display screen of the copier.