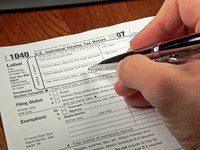 Because of the crippling recession that started with a September 2007 stock market crash, the U.S. government began issuing economic stimulus money to 2007 taxpayers who filed before October 15, 2008. The American Recovery and Reinvestment Act of 2009 continued the trend by offering 2010 tax payers rebates and tax credits. Filing your taxes on schedule should automatically make you eligible for these forms of stimulus, which can be delivered to you by check or direct deposit.
Things You'll Need
1040 tax return
1040A-3 package
Qualifying income
Current bank information
Current address
Visit the Internal Revenue Service (IRS) web site or a tax lawyer to obtain the paperwork to file your taxes. All of the necessary forms and paperwork are available for download with instructions at the IRS's "1040 Central" page, listed in the Resources section.
Fill out the shortened package 1040A-3 to file for the stimulus, even if you are not required to file a tax return. This shortened form should still qualify you for the stimulus if you are not claimed by someone else as a dependent.
List your qualifying income, defined as money from employment, self-employment or forms of Social Security, veterans or disability pay. Your qualifying income must total at least $3000 to apply for a stimulus rebate.
Choose the "direct deposit" option on your tax return to receive your tax credit quickly. The IRS will send a check to the address you've listed on your return if you don't offer banking information for the direct deposit.
File a federal tax return by the deadline of April 15. If you have applied for an extension, a new deadline arrives every three months, with the final deadline for the filing year arriving on October 15.