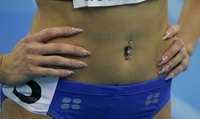 Piercing professionals prescribe sea salt soaks as part of the aftercare for a new piercing. A natural astringent, sea salt pulls water out of cells, helping them to remain healthy and multiply faster. As a result, wounds heal more quickly and with a smaller risk of infection. Sea salt is preferable to chemical cleansers such as hydrogen peroxide and anti-bacterial ointments, which can destroy healing white blood cells. A sea salt soak should be used daily for three to four weeks after having your navel pierced. If the wound is infected, you should apply the soak two to three times per day.
Things You'll Need
Anti-bacterial soap
Pot or tea kettle
1/2 tbsp. sea salt
Glass or mug with straight sides
Spoon
Wash your hands thoroughly with anti-bacterial soap.
Boil ½ cup of water in a pot or a tea kettle to ensure that the water is sterile and free from impurities.
Let the water cool for five to 10 minutes.
Place one finger carefully in the water to test the temperature. The water should be hot, but cool enough that your finger does not burn.
Measure ½ tbsp. sea salt and place it into the bottom of your glass or mug.
Pour the ½ cup of water into your glass and stir the mixture until all of the salt has dissolved.
Remove your clothes and stand in the shower or bathtub. Hold the cup in one hand.
Lean over the cup and carefully place the rim of the glass against your skin around your navel.
Stand up slowly with the glass pressed hard enough against your skin to make a seal.
Stand or sit in the bathtub for ten minutes.
Pour out the mixture and carefully rinse your skin with warm water.
Pat the area around your navel piercing dry with a towel. Do not rub your skin with the towel.