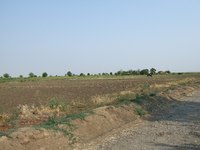 A property survey provides the boundaries of the property, along with any buildings, such as sheds, barns or garages. Generally, lenders require a new survey when a borrower purchases property to protect the buyer and seller in the event of a future property dispute. However, there are ways to buy land without having a survey done first. As long as the lender is in agreement, not getting a survey is completely legal. Also, buying the land without the use of a mortgage company is an option.
Things You'll Need
Pay cash for the property. If you do not obtain bank financing or a mortgage for the land, you control the purchase of the property. Therefore, no land survey is required.
Use a tax map to obtain the landlines. Go to the tax assessor's office in the county where the property is located. Request a copy of the tax map showing the property (see Reference 2).
Review the tax map and locate the lot and block numbers or the metes and bounds information. If the property is in a subdivision, a lot and block number is used. However, metes and bounds are used for rural property. Check the deed and make sure the description matches.
Get approval from your lender to close the purchase of the property without a survey. If other documentation is available, such as a tax plat, the lender may allow you to forgo the survey and purchase the property.