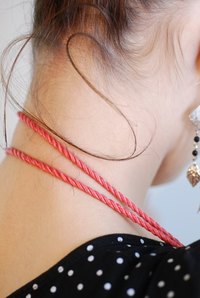 Bumps appear on your neck for a variety of reasons. For example, after a close shave or an attack from an insect, unsightly blemishes often show up in plain view. However, before you treat the bumps, find out why they exist and what type of problem, if any, they may indicate.
Things You'll Need
Look at where the bumps are located on your neck. If they sit on the front of your neck, this often occurs after a good shave. Switch to a less harsh brand of shaving cream to see if that stops the bumps on your neck.
Thoroughly clean the portion of your neck that contains the bumps with soap and water for one week. See if the bumps begin to diminish. If the bumps disappear, an insect bite could be to blame.
Try a different kind of body wash meant for those who need a mild cleanser, such as Ivory. Use this new body wash for a few days and see if you experience a change in condition. If your choice of soap makes a difference, continue to buy the new item.
Spend less time in an outdoor environment. When you go out, protect your neck from the sun with a collar or scarf and lotion that contains UV (ultraviolet) protection. Avoid beach outings until you figure out the cause of your neck bumps.
Keep your neck clean. Remember that debris, oily fluids, or other unclean substances may create bumps on your neck. Wear shirts that guard your neck against harmful elements until your condition gets better.