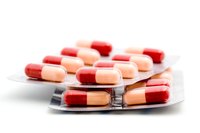 Antibiotics are one of the most important tools in modern medicine, easily stopping in their tracks many bacterial infections that in centuries past might have been fatal. Doctors prescribe antibiotics for confirmed infections, but also to individuals believed to be at increased risk for serious infections, such as those with immune deficiencies. Possible side effects of antibiotics include allergic reactions as well as a variety of gastrointestinal problems, such as nausea and diarrhea. Sometimes these side effects are inevitable, but you can take a few actions to minimize your risk.
Tell your doctor about any past history you have regarding reactions to antibiotics. In particular, your doctor needs to know if you have ever had an allergic reaction to an antibiotic. With this information, your doctor can avoid prescribing antibiotics that are likely to cause problems.
Inform your doctor about any other medications or herbal supplements that you are currently taking. Sometimes antibiotics can interact with other medications, worsening the side effects of antibiotics (or the other medication).
Ask your pharmacist about the proper timing for when to take the antibiotic that your doctor has prescribed. Some antibiotics are supposed to be taken with food while others should be taken on an empty stomach. Using the antibiotic as instructed will reduce the risk of adverse side effects and will increase the chances that the antibiotic will work as indicated.
Add fresh yogurt to your diet or take a probiotic supplement. Some alternative health experts believe that increasing your intake of healthy bacteria during and after antibiotic treatment will prevent the healthy bacteria in the gut from being depleted. Some scientific evidence suggests, also, that use of probiotics reduces the risk of diarrhea due to antibiotic therapy, and may prevent infection with a dangerous bacterium known as C. difficile.
Tell your doctor about any side effects you experience during antibiotic treatment. Call your doctor right away if you develop a rash or experience trouble breathing while using an antibiotic, as these symptoms may mean you have an allergy to that antibiotic.