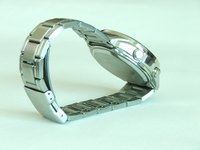 Rolex has become synonymous with quality and elegance by creating world-class time pieces year after year. Most people who invest in a high-end watch such as a Rolex plan to keep it for a lifetime. If you learn to repair the band on your Rolex, you should be able to maintain the watch without visiting a repair shop. Although Rolex watches are complex machines, the bands are simple to repair when you follow this step-by-step formula.
Things You'll Need
Place the watch band face up on a flat work surface with the band above the face of the watch.
Examine the links of the watch band and move the joints of the watch band to identify the damaged link.
Insert the tip of a hole punch in the hole of the damaged Rolex link that you want to remove.
Push the link bar out of the opposite side and remove with your other hand.
Pull the link away from the link bar and remove the link bar from the link with pliers.
Install a new pin by first squeezing the pin and then inserting the end into the clasp to restore the original circular form of the watch band.