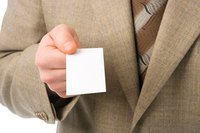 Business owners often exchange business cards whenever they meet. Once you starting meeting a lot of business owners, it can become tedious and time consuming to enter each person's information into your computer. For that reason, many scanner options are available that allow you to import the information without having to type it all manually.
Purchase a scanner. There are several card scanner brands available, including CardScan, Iriscard and Visioneer. All of these come with different features and benefits, but the main idea is the same. It will scan the card into the computer so you can import the information digitally.
Install the software for the card reader. There will be specific instructions included with the card scanner that will tell you how to connect the scanner and use the software. Upon successful installation, you can scan cards one at time into the scanner.
Scan the cards you have. When you scan the cards, it will allow you to select a format to import the information. You can choose vCard from these options. If when you scan this is not an option, you may save in any format, then go back into the program it is saved to and export to vCard format. For Cardscan you can drag and drop the vcard information as well into the other application you want the contact to be saved in.