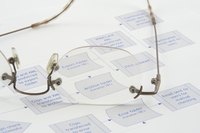 The estimates of the costs of wasted time and labor effort that we read about from time to time are staggering. The cost of any product or achievement is directly reflected in the amount of time and effort required to create or produce it. Creating a work flow timeline chart is certainly a worthwhile endeavor for any person or company needing to get tasks completed in a timely and effective manner. To streamline a production effort, and get the absolute most progress toward completion of the product at each phase of the production, work flow timeline charts are very effective.
Write out a daily work schedule. Establish hours to be worked with starting and end of workday times. Count the number of available work hours by subtracting the starting time hour from the stopping/end of workday time. For instance, if the workday starts at 8 a.m. and ends at 5 p.m., that is a total of nine hours.
Deduct one hour of personal time from the nine hours. Allow 30 minutes for lunch, a 15-minute break in the morning and a 15-minute break in the afternoon, leaving a total of eight hours of available work time.

Hold employees responsible to be at their respective workstations, actively involved and working on the product or process during the entire eight hours of available work time. Eliminate extraneous, non-productive activity during scheduled work time. Require bathroom, other personal needs and water breaks to be taken at the appointed break times.
Look at the entire production process as a whole, then break it up into parts. Assign each department its part of the entire task to be completed. Match each part of each departmental task with a time frame for completion. For example, if a part of the production process is assembling a total of eight parts, in a specific order, to be connected and joined at another department, stand and time one of the best employees doing this task.
Assign that time value to the completion of that particular task within the overall process. Divide that block of time into the available eight-hour work frame to get the total number of assemblies to be expected within that time. For instance, if the assembly took 12 minutes, divide 12 into 480, since there are 480 minutes in eight hours, to get a total of 40 assemblies per person, per workday. Multiply 40 assemblies times the number of assemblers you will employ to generate daily production volume.
Repeat Step 5 for the entire operation to get an exact number of total tasks to be completed for the available work time. Adjust each department's number of employees and allowed task completion times to smooth out the production process. (The connection/welding department cannot weld if there are no assembled parts to weld.)

Create a daily spreadsheet of eight one-hour blocks at the top. List the departments, on the left side of the page, under the time blocks, in the order of the production process. Total each line to the right of the eighth hour for each day, then total each column to get the total expected production, for each department, for each day