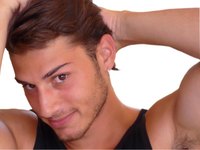 Dandruff is a fairly common affliction that can generally be easily treated. However, some people suffer from even worse side effects of dandruff. This includes acne that can form on the scalp and around the hairline. Dandruff occurs when the scalp is either too oily or too dry, which then fuels the growth of a naturally occurring fungus, called pityrosporum ovale. To get rid of the pimples that plague your scalp, you will want to treat the dandruff as well.
Switch up your shampoo routine. Pimples occur when your pores and follicles produce too much oil, known as sebum. Excess sebum can occur if your scalp is either too dry or too oily, so pay special attention to your products. Try using a more gentle shampoo if your normal brand dries you out. If you use a conditioner, only apply it to the ends of your hair and stay away from the scalp.
Stay away from heavy styling products. These oily products are likely to clog your pores, creating even more pimples. Look around for styling products specially formulated for sensitive scalps or light water-based products.
Try tea tree oil. Tea tree oil is known for its natural anti-bacterial properties. Dab it directly onto your scalp and around your hairline. You can also add a few drops to your shampoo when you're in the shower. Most health food stores also sell tea tree oil shampoos made to help with problem scalps.
Use a dandruff shampoo. Selsun Salon and Head & Shoulders both contain zinc, which helps to reduce inflammation. Neutrogena T/Sal Shampoo contains salicylic acid, a chemical found in many acne medications and face washes. These shampoos will do double-duty combating both your pimples and your dandruff. When you wash you hair, remember to use lukewarm or cool water. Water that is too hot will irritate your skin and dry out your scalp.
Visit a dermatologist. If over-the-counter solutions still don't alleviate your pimples, you may need more severe treatment. A dermatologist can prescribe powerful shampoos, antibiotics and even steroids.