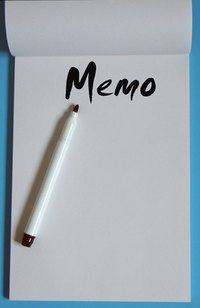 Motivated employees are efficient, happy employees. If you want to boost your company's productivity and change the working environment, writing a memo on motivation is a step in the right direction. However, a motivating memo can be challenging because you must simultaneously convince your employees to read the memo and encourage them to take the information to heart.
Consider your audience. You're writing to your employees, who, according to Carter McNamara of Authenticity Consulting, must motivate and empower themselves. You merely create a motivating environment.
Use this memo to begin establishing an environment conducive to motivation. Show employees that you care about them and trust them to run the company. For instance, you might use words such as "valuable" and "worthwhile." As you write, understand that the employees' primary concern will be job stability and salary, not the company's bottom line.
Employ a tone of encouragement and hope in your memo. Your employees will not be motivated unless you sound motivated. In fact, McNamara writes that enthusiasm is contagious. Leaders must be motivated if they want employees to be motivated. McNamara also writes that penalizing employees does not always motivate them, so avoid a tone of anger or chastisement, and instead focus on showing your enthusiasm.
Include concrete information about how employees can increase their level of motivation and why this is important. List interpersonal benefits, such as reduced stress and emotional benefits, and the pride that comes with completing a task. Avoid discussing money and promotion as sources of motivation. These often seem like shallow means of motivation, and for many are not real long-term motivators.
Encourage your employees to adopt a new form of thinking. According to Anne Bruce and James S. Pepitone's book "Motivating Employees," motivated employees have an entrepreneurial mindset and believe they participate in running the company. In your memo, encourage this mindset by creating a sense of camaraderie or teamwork. Tell employees that the company depends on their successful work and good decision-making.