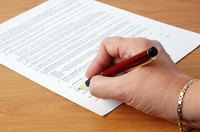 A corporation is a legal entity composed of multiple individuals, and doing business with a corporation might become confusing when the question of who is authorized to sign a document for the corporation is raised. Some contracts have been contested as signed and entered into by an officer of the corporation without the knowledge and approval of the corporation itself. You can avoid contested contracts entered into with a corporation by knowing the proper way to have a legal document signed if the owner is a corporation.
Hold an official meeting of the board of directors of the corporation with a sufficient number of directors present in order to constitute a quorum, or majority. The purpose of the meeting should be to discuss the merits of the legal document or contract, and to decide whether to accept or adopt the legal document.
Have the quorum of directors vote on the adoption or acceptance of the legal document or contract by casting individual votes and tallying the results. Should the majority of directors present approve of the vote, the legal document or contract is then adopted and authorized by the corporation as a board resolution.
Prepare a written board resolution document that states the board resolution number, date of the board meeting, time of the board meeting, the location where the meeting was held, the list of directors who were present and the fact that the contract or legal document was presented to the board during the meeting and was adopted or approved by the board. Include the name of the officers who are authorized by the board to sign the legal document or contract in behalf of the corporation.
Have the written board resolution signed by the chairman of the board of directors and attested to by the corporate secretary. You can also have all the directors present during the meeting attest to the board resolution by having them sign the written board resolution, although this is not necessary to make the written resolution binding.
Have the legal document or contract signed by the officer or officers authorized in the written board resolution and present the written board resolution to any party who might be in doubt as to the authority or power of the person signing the document to bind the corporation to the terms of the document.