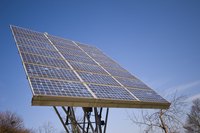 Not only do business plans help to guide a company, they also help to attract potential investors or even suppliers and customers. A good plan attracts others because it proves your firm has direction and a predetermined course of action, which speaks security to those with whom you would do business. Developing a solar farm's business plan requires specific knowledge about the industry, as well as how your firm will operate within it. There are also special financial and legal considerations you must address within the plan.
Things You'll Need
Market research
Financial data
Industry information
Personnel plan
Organizational outline
Distill everything you need or desire for your company into a clear and concise series of documents. According to "Entrepreneur" magazine, a good business plan contains business goals and strategies, potential business problems and how you'll solve them, the organizational structure of your business and the amount of capital resources you'll need to finance your venture until it becomes profitable.

Detail any solar-specific information you will need for your plan. This information includes where you will build your solar panels, how much the land will cost (unless you own it) and to whom you will sell your power. Each state has different regulations governing the creation and commercial sale of energy, and some have deregulated the market altogether. Your plan needs to address how your business will abide by these strictures and, if possible, how you will use them to your advantage.

Locate a template online and begin pooling your information into the proper order. Templates are always just a starting point for any venture, though they do provide a point of departure for your own ideas. The Finance Resource in the Resources section lists other requirements for a good business plan, including an executive summary of the entire plan, as well as a marketing plan, a plan for hiring workers, extremely detailed financial data and a strategic analysis of the solar energy market with up-to-date research.

Plan for the long-term. Once you have your preliminary facts and plans in order, take your business plan to the next level by consulting a lawyer or other industry expert to hone your preliminary draft into something you can use to entice investors, partners and clients to the solar industry. The Small Business Administration hosts online forums and other resources which may be beneficial to your drafting process. They may also be good places to network with experts, investors or even a future business partner. The SBA has information covering strategic planning and how to find a niche within your industry--in this case solar farming.