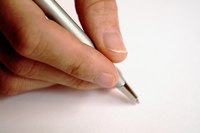 Grants are a form of financial assistance from the federal government that allow individuals, businesses, and nonprofits to carry out work for the public. In order to secure a grant a person must send a proposal to the government or grant foundation. The Grant Needs Assessment, also known as the Problem Statement, is an important part of the grant application that defines the problem that will be solved using the grant money. The Grant Needs Assessment explains how the organization asking for the grant money will solve the problem, and defines the project's goals.
Define the problem that you wish to solve. Write a clear, concise, and well-supported statement about the problem that will be overcome using the requested grant money. Examples of problems would be low literacy levels in local schools, high crime rates, lack of alternative forms of energy for the local community, etc.
Gather and review the data relevant to your problem. Gather statistics to support the existence of the problem. Determine the needs that the problem creates and that your organization or business can fill.
Make a connection between the problem and your organization. Address how your organization will solve the problem that you have defined. Explain how your organization or business will fill the need caused by the problem.
Come up with performance goals that your organization will reach in order to solve the problem. Performance goals are landmarks your organization will reach that show it is making progress in solving the defined problem.