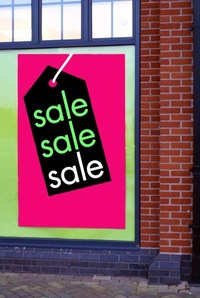 Having attractive signage can help draw more customers into a retail store. The sign should be appealing and an extension of the store's brand. Most stores have several types of signs. There is the main sign for the store, promotional signs, branded signs and informative signs. Each can have its own material, color and look. Most signs can be produced fairly inexpensively.
Things You'll Need
Tape measure
Sign materials
Graphic design software
Printer
Plastic sign holder
Make the main sign for the store. The main sign, or frontage sign, is the most important. This is the most visible and says the most about the brand. Look at the front of the store from the customer's vantage point. Measure how large the sign should be using a tape measure. Design the sign using graphic design software. Adobe Illustrator works well. Determine the material. Match material, colors and fonts to the branding of the store. If the store has a wood aesthetic then use wood as a material. Many signs are designed using Plexiglas, which is cheap and weather resistant. However, many businesses opt to use a plastic or a Plexiglas sign holder. If this method is used, print the sign using a high quality printer, or print at a commercial print shop, and insert the sign into the sign holder.
Create branded signs. Many retail stores like to display what brands they carry in the window to entice buyers to enter. Make a list of the brands the store carries. Go to the official websites of those brands and download their logos. Compile the logos using graphic design software. Print the logos using a high quality printer. Place the printed out logo sheet into a plastic sign holder and place in the window of the store or highly visible place.
Create a promotional banner. A promotional banner is typically a large horizontal banner that is displayed prominently in the store or store's window. The promotional banner will often have information regarding a sale or special promotion. Measure the dimensions of where the banner will be placed. Open the graphic design software and create a large banner based on the measurements. Enter the text for the banner and any accompanying graphics. Print the banner and assemble the different printed sheets to create a banner or use a commercial printer to print on one large roll.