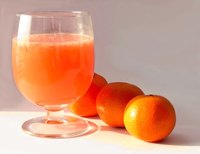 It's important to pay attention to your body's antibody production, particularly if you are prone to illness or catching the flu. It's also imperative if you work around small children, as do teachers or pediatricians. There are ways to alter your nutrition to boost antibody production by eating certain foods and drinking different juices, all of which can result in better health and an improvement in how your body functions.
Things You'll Need
Drink plenty of orange juice, which contains a high level of Vitamin C, one of the best natural ways to increase antibody production. Other foods that are high in Vitamin C include broccoli, cauliflower, bell peppers and strawberries.
Serve turkey for dinner or choose a turkey sandwich, as the zinc in turkey can boost antibody production. Most red meats contain beneficial amounts of zinc, or try eating mushrooms, oysters and legumes.
Prepare your meals with plenty of garlic. Garlic multiplies antibodies and makes those antibodies stronger by inducing white blood cells to reproduce. Garlic is also thought to help prevent certain types of cancer. It works in either raw or cooked form.
Eat salmon once a week for dinner or lunch, as salmon is rich in the fatty acid Omega-3. Omega-3 boosts antibody protection by multiplying phagocytes, a type of white blood cell. If you don't enjoy fish, try taking a spoonful of flax seed oil every day, which contains high levels of Omega-3.
Talk to your doctor about getting a prescription for an antibody medication, which is typically only necessary for those with dangerously low antibody production. Your doctor can help you determine if such medication is a good option for you.