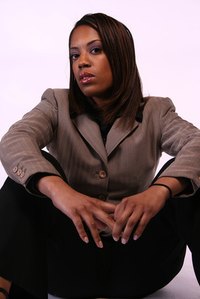 When blood is properly oxygenated, the skin has normal coloring. For certain patients, circulation is impaired. This is especially apparent for people with certain circulatory and heart conditions. One of the symptoms of these disorders is cyanosis, characterized by a bluish tint to skin and mucous membranes. When dealing with patients with dark skin, however, the natural tinting has a tendency to mask these symptoms. There are ways that you can better assess cyanosis in the lower extremities of people with dark skin.
Things You'll Need
Medical recording forms or paper
Pencil or pen
Take a complete oral history of the patient. Ask specifically about any current medications, cardiac issues and any family history of heart or circulation problems. Ask the patient's own opinion of the presence of cyanosis in the lower extremities. The patient may have a clearer picture of what tones are normal in her own skin. Record this information with a pencil or pen on the medical form or piece of paper.
Record anything that the patient reports makes the cyanosis, or discoloring, worsen. This may include activity, temperature changes and stress.
Palpitate, or feel, the lower extremities to check for skin that is excessively hot or cold compared to surrounding skin tissue. Look for bruising, cuts and redness. Note whether the patient experiences any pain during this examination. Record the results.
Ask the patient whether he has any pain, tingling or numbness in the area surrounding the lower extremities. Ask about any headaches or possible blurred vision. Record the results on your form.
Compare both the extremities to each other to see if there is a difference in coloring between the two limbs. Also, compare the skin in the immediate area with skin above and below the area where cyanosis is suspected.
Look at the nails on the lower extremities. Cyanosis is often detectable in the nail bed and other lighter-colored tissue even when the dark tones hide the bluish tint in the skin. Also, look for swelling, known as "clubbing," at the tips of the toes.
Take photographs of the lower extremities with a digital camera and keep them on file with the medical forms. You may need to see the patient at a later date and make comparisons to make a firm assessment of the possible cyanosis.