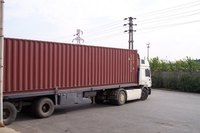 A trucking business has the potential to make you money, but before you can earn money you need money to invest in the business. Trucking companies vary in size, ranging from an individual with a truck to large organizations with a fleet of thousands of trucks. Therefore, financing needs of trucking companies vary considerably. However, there are a few guidelines no matter the size of your trucking company.
Make an investment into your company yourself. People are rarely willing to invest in a company if no one else has--particularly if the owner has yet to make an investment. Making an investment will help attract other investors and show your confidence in your business. If you do not have the cash to make the investment, you can cash out some of your investments or borrow against retirement savings. You can also apply to a commercial lender for a private line of credit or borrow against your personal assets.
Appeal to the three Fs of entrepreneurship: friends, family and fools. New businesses are typically risky and these people are more likely to invest in a risky business than commercial lenders. Present your trucking business to friends and family. Explain to them the size of the fleet that you plan to operate, the type of trucking services that you will be offering and the market for these services. Also offer a rundown of the potential earnings from the business based on the investment that you are asking them to make. The term fools refers to investors, such as venture capitalists, who make risky investments. Venture capitalists are not actually foolish at all. Although they may invest in a risky business, they will demand high levels of equity for their investments.
Franchise out your trucking business. Franchising offers a trucking business the opportunity for quick expansion and access to interest-free capital. You can franchise your business out by recruiting owner-operators to operate a truck under your name. These owner-operators will make an investment in the purchase of a truck and may pay a franchising fee to you as well. You will then receive a percentage of the franchisee's profits. Although franchising can offer you the ability to quickly expand your trucking business, it also requires giving up a certain amount of control to franchisees; the franchising option is not suited to all entrepreneurs.