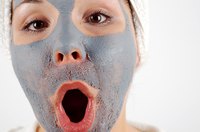 Glycolic acid is a natural acid found in the sugar cane plant as well as many fruits. It has become a common ingredient in facials because it acts as a "keratolytic agent." This means it removes the top layer of dead skin cells, making the skin softer and brighter. Many glycolic acid facial masks are expensive and may be too irritating for sensitive skin but you can make your own natural mask at home for a fraction of the cost.
Things You'll Need
Measuring cup
Bowl
1/2 cup white cane sugar
1/2 cup vegetable glycerin
Aloe vera gel
Dry orange crystals with vitamin C
Spoon
Eyedropper
1 drop orange oil
1 drop lavender oil
Towel
Mix 1/2 cup of white cane sugar and 1/2 cup of vegetable glycerin in a bowl. Add about 1 tbsp. of aloe vera gel and 1 tsp. of orange crystals. Stir the mixture until it has a paste-like consistency.
Apply the paste onto your skin. Rub and massage it in for about two minutes.
Let the paste sit on your face for another five minutes. It will begin to harden like a mask.
Rinse it off with warm water. Pat your face dry with a towel.