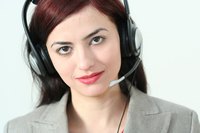 Your level of customer service may have a lasting impression on your clients. Therefore, offering confident and high quality customer service is crucial if you want your business to succeed. Dealing with customers may be challenging, especially if they are unhappy with your product or service. However, the way that you handle customer interactions will make an impact on your clients, and they are more likely to remember you if you go the extra mile to help them.
Display a positive attitude, advises SovleYourProblem.com. This doesn't mean pretending to feel happy about everything, as your customers will recognize when you are not being genuine. However, focusing the brighter side of the situations that you find yourself in will help keep your mood lifted and be reflected in the way that you interact with customers.
Speak clearly and concisely, with authority. Display your confident approach by ensuring that the customer understands what you are explaining. Don't trip over your words or mumble. Sound like you believe what you're saying.
Don't take customer criticism or comments personally. When customers feel angry or frustrated, they may lash out at you about something that isn't your fault. If you take negative feedback personally, this may rock your confidence. Instead, look at the situation objectively and empathize with the customer, but don't take comments to heart.
Be respectful. While customers may not always be right, you should be polite to them even if they don't reciprocate. If you are rude, then a conflict will develop, warns ImpactFactory.com. However, do not allow customers to display abusive behavior. If a customer starts shouting or swearing at you, respectfully end the conversation as soon as possible.
Listen and respond appropriately to what the customer is saying. You may become distracted by a disgruntled tone of voice, but focus on the content of the conversation to show that the situation is important to you, too. If you are clear about what a customer wants, you will be able to determine if you can resolve the complaint.
Apologize when necessary, advises ImpactFactory.com. If you are working in customer service, you will make mistakes. It's better for your relationship with customers, and their opinion of you, if you have the confidence to issue an apology when you are wrong. Jane-Michele Clark, president of a communications and training firm, says that just listening to a customer's complaints may diffuse the situation. Offering to rectify your mistake will leave them with a better impression of you than if you don't admit it.