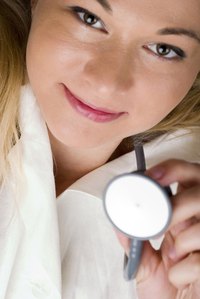 When purchasing new medical equipment, it is important to figure out when you will make back the money on the equipment---your break-even point. You will need to compare the price of the medical equipment to the cash flow from its use. You can also perform a break-even analysis on the equipment on a year-to-year basis. This will tell you the number of times you will need to use the equipment to not lose money on it for the year.
Cost Recovery Period
Determine the annual cash flow you expect from the equipment. For example, a doctor may estimate that a new machine will bring in an additional $3,000 a year in revenue.
Determine the cost of the new equipment. Let's suppose that the doctor's equipment cost $9,000.
Divide the cost of the equipment by the annual cash flow. In this example, $9,000 divided by $3,000 a year equals three years. It will take the doctor three years to recover the cost of the equipment.
Break Even
Determine the fixed costs for the machine on average, the per use variable cost and the per use sales price. For example, each year a doctor needs to make $10,000 in payments on a machine. In addition, each time he runs the machine, he incurs a variable cost of $500. The doctor charges $3,000 each time he uses the machine on a patient.
Subtract the average variable cost per use from the per use sales price. In this example, $3,000 minus $500 equals $2,500.
Divide the annual fixed costs by the number calculated in Step 2. In this example, $10,000 divided by $2,500 equals 4. Therefore, the doctor would need to use the machine on four patients in order to recover his annual fixed and variable costs on the machine.