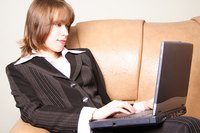 It is easier today than ever before to start your own business on a small budget. Because of today's simple-to-use web tools, social media and free resources for entrepreneurs, budding business owners have a wealth of resources to help them get started. By using your start-up funds wisely, you can launch your business with low overhead costs as you work to generate revenue. As you begin to bring in more money, you can reinvest those funds to grow your business.
Things You'll Need
Determine what you plan to sell. This does not have to be a product. If you are selling a service, such as housecleaning or personal organizing, you will not have to spend money on inventory. If you are selling a product, like handmade bags, you will need to allocate a certain percentage of your capital to supplies.
Invest in an online presence. The quickest way to attract visibility to your business is to secure a domain name and create a website. Many web-hosting providers include a domain with your hosting package, and you should be able to get your website name, email account and access to simple site builders for less than $50.
Put together a marketing collateral package. You will need business cards and a brochure that outlines your business and the products and services you offer. This will make it easy to leave information with people you meet. Whether you create your materials at home, or order them online, you should plan to spend between $50 and $100 dollars.
Advertise your business. Set up social media accounts and ask friends and family to promote your business page. Offer incentives and coupons for people to visit your website. For less than a few dollars a day, you can advertise your page and use search engine optimization tools to drive additional traffic to your website.
Network. Now that you have an online presence, you need to get out there and work. Attend chamber of commerce functions and join a local referral networking group if you have one in your area. Offer free samples of your products or introductory rates for services to encourage people to try your business. This is all free to you, leaving you with some capital left over for additional promotion opportunities.