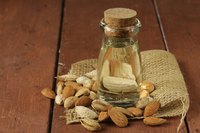 Fat gives you energy, healthy skin and hair, and insulation. It assists in absorbing fat-soluble vitamins, brain development, blood clotting and controlling inflammation. Dietary Guidelines for Americans suggest that 20 to 35 percent of your calories come from fat, but your personal needs will depend on your health, physical activity and dietary restrictions.
Calculating Grams of Fat
One gram of fat is equal to 9 calories. If you are supposed to get 20 percent of your calories from fat, for example, you first multiply 20 percent, or 0.20, by your total amount of calories recommended for the day -- 2,000 calories, for example. Two-thousand calories times 0.20 equals 400 calories, which is the amount of calories you are to consume from fat. Next, divide 400 calories by 9 calories to obtain your final number of fat grams. While the answer is 44.44 grams, this number can be rounded down to 44 grams of fat as the amount equivalent to 20 percent of a 2,000-calorie diet.