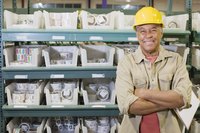 The U.S. military, which operates under the DOD (Department of Defense), is the largest contracting agency within the federal government. The DOD awards contracts to businesses of all sizes. The only requirements are to be a registered government vendor, and prove you or your company have the ability to execute the terms of the contract. Bidding on these contracts can be rather simple once you learn how to find and identify relevant opportunities. Bidding on military contracts is no different than bidding any other contracts within government agencies; the process is the same.
Things You'll Need
Registered government vendor
Identify and gather the NAICS (North American Industry Classification System) codes that best describe your line of work. NAICS is a classification system comprised of five to six numbers the government uses to easily identify a vendor's specific line of work. If you do not know your NAICS codes, you can find them on the NAICS website or the U.S. Census website.
Log on to the DOD (Department of Defense) website and click on "Doing Business" with the DOD link.
Enter your NAICS codes in the search link inside the DOD contract opportunity search portal. The NAICS codes you enter will optimize your search to pull up opportunities relevant to your company's capabilities.
Look through the opportunities and choose different contracts. Consider the bids that have the most distant submission date. You want to give yourself plenty of time to prepare the information needed to submit a bid.
Locate and print the performance work statement inside the bid/solicitation. Read the the full description of work and highlight key points.
Call the contracting officer with any questions about the opportunity. You want full clarity on the services you will provide.
Follow the submission guidelines in the bid/solicitation and submit accordingly.