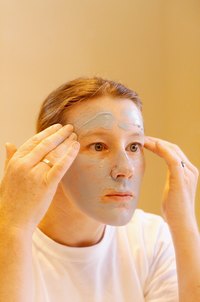 Blackheads are pores that are visibly clogged with dirt and oil. The best way to clear these pores is by using a facial scrub on a daily basis. A cheap homemade scrub can be made with sugar. The small grains are perfect for exfoliating the skin and unclogging your pores, leaving you with clear and clean skin.
Things You'll Need
Face wash
1/4 cup olive oil
1/2 cup sugar
Wash your face thoroughly with face wash and warm water.
Combine 1/2 cup of granulated sugar and 1/4 cup of olive oil in a bowl.
Apply the facial scrub to your face with your fingers. Use circular motions to exfoliate the skin and unclog the pores of the affected areas.
Rinse your skin with cold water and dry with a towel.