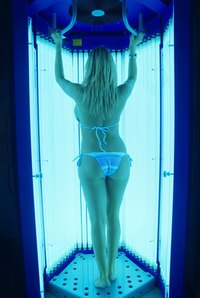 Tanning lotions, or "self-tanners," are a safe alternative to exposing your skin to the sun's harmful ray or tanning bed bulbs. Most self-tanners are a cream or lotion that cause a "tan" to develop a few days after application. Because you can't tell how well you are applying the lotion as you do it, you can end up with discoloration from your tanning lotion when the tan finally develops. Getting rid of this discoloration is not difficult, but the process may not work if your discoloration is severe.
Things You'll Need
Lemon juice, lemons
Cotton balls
Exfoliate your entire body with a body scrub. You can make one at home by combining 1/2 cup of sugar and 2 tablespoons of olive oil. Gently rub it all over your body. Use a loofah to scrub at the worst spots. Rinse off the scrub and examine your tan. Shave your legs to remove any more discolored, dead skin. If your discoloration was minimal, this may do the trick.
Soak a cotton ball in pure lemon juice and swab it over the streaky areas. Be careful to target the streaks only. If your hands or feet are discolored, you can soak them in the lemon juice.
Purchase a tan remover solution from your local pharmacy or beauty store. They are available in both lotions and towelettes. Follow the instructions on the package for the product you choose. These products usually cannot completely remove the streaks, but they are your best bet to get rid of serious discoloration.
Apply some makeup if you can't make the discoloration totally disappear. Use tinted moisturize to blend in the spots to the rest of your skin. For your face, skip the bronzers or heavy foundations, which can draw attention to the splotchy tan. Alternatively, you can try to fill in the light spots by using tanning towelettes on them.