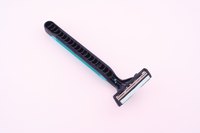 Both men and women use razors to shave away unwanted hair. Unfortunately, even if you shave correctly, you could end up with a red rash or red bumps where you shaved. The rash or bumps may itch or even burn. You don't have to live with the discomfort. You can use some home remedies to soothe the irritated areas and help your skin heal much faster.
Things You'll Need
Cotton ball
Witch hazel
1/4 cup water
2 uncoated aspirin
3 drops glycerin
Small bowl
Packet of oatmeal
Ice pack
Pour some witch hazel on a cotton ball and wipe it over your rash or bumps. Witch hazel is a natural astringent that will cool the area.
Mix 1/4 cup of water, two uncoated aspirins and three drops of glycerin in a small bowl to form a paste. Smear the paste over your razor bump rash. This will not only help heal the razor burn or bumps, it will numb the area so you are not in any pain.
Take an oatmeal bath. Add a packet of oatmeal to your bath water and soak your razor burn rash for 20 minutes.
Place an ice pack over the bumps or rash if you are experiencing a burning feeling. This will cool the area and numb it so you are not in as much pain.