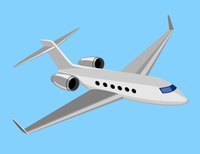 Approximately 26 million pieces of luggage go missing every year in major airports across the world, according to Conde Nast Traveler. This does not include items left behind in the cabin of a plane. If you are one of the unlucky United passengers whose luggage never arrived at its intended destination, or if you forgot to retrieve an item as you were leaving the plane's cabin after a flight, you may find it helpful to contact United's baggage services department for more help. This department handles not only lost luggage, but also United's general lost and found items.
Online
Direct your preferred web browser to United.com and click on the "Contact Us" link in the upper right corner of the window.
Click on "Damaged, delayed or lost baggage, and lost items," then "View contact forms and policy information."
Click "Report lost items" under the "Damaged, delayed, or lost baggage" heading.
Fill out the required and requested information on the form that appears. This includes your email address, street address, name, Mileage Plus number, if applicable, the date or dates you traveled, your origin and destination cities and the type of claim you wish to make.
Type a short message in the "Additional description" box describing your lost item and providing any other relevant information not already entered in the form. Click "Submit" to send your message.
Phone
Dial 800-335-2247 on your phone to reach United's baggage information service department by phone.
Say "Lost and Found" when prompted.
Say the name of the airport that most likely has your bag or lost item. This will prompt the recording to give you the number of the lost and found department at that airport.