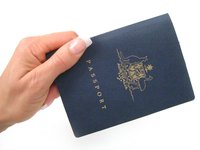 Online banking is a fast and easy way to manage your finances, pay bills and monitor your savings. It all but eliminates the need for visits to physical banking centers. Most banks now offer debit cards (check cards) to all checking accounts opened online--further eliminating the need for teller visits. If you need to open an online checking account, but you do not have a state-issued driver's license, you can use your U.S. passport.
Look at the first page of your passport. This will show the details regarding your name, when the passport was issued, why it was issued (replacement, for example) and what the expiration date is. The passport must be valid to be used as a photo ID.
Research different online banks. You should look at not only strictly online banks (such as ING or Orange), but also the banking websites of smaller, local banks. Compare between three and five institutions. Take into account the following: number of transactions allowed per month, number of checks allowed and minimum balance requirements.
Choose a bank and log on to its website. Click on the "personal banking" tab and find the area for new account creation. Make sure to choose the appropriate account--many banks offer different types of checking accounts (such as business and investment accounts).
Fill out all your demographic information. This will include your name, address, phone number, Social Security number, date of birth and former accounts with the bank.
Fill in the identification section. This is normally when you would enter your driver's license information. Instead, choose "passport" from the drop-down menu (if available). Enter the date issued and the expiration date.
Enter the transfer amount, if you will be electronically transferring funds to the account. Once done, review all the information on the checking account application and click "submit" to send for processing.