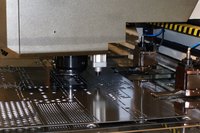 Small machine shop businesses frequently depend on orders from larger equipment manufacturers. Larger companies adjust their operations according to economic conditions and need for their equipment. IBIS World's June 2010 five-year forecast projects that machine shops will experience overall growth despite outsourcing of some work overseas. To maximize growth opportunities, monitor manufacturing industry trends and projected equipment needs. Keep abreast of emerging technology that can provide small machine shops with efficiency advantages.
Things You'll Need
Written zoning approval
Business structure information
Insurance information
Business license
Other permits (if applicable)
Sales tax license (if applicable)
Information on competitors' products and services
Machine shop layout schematic
Shop equipment and supply order
Customer quote and contract
Production schedule
Obtain zoning approval for your business. Contact your city's zoning manager, and confirm that zoning regulations allow you to operate your machine shop business legally from your home address. Obtain written approval for a permitted use. Ask the manager to include any conditions or limitations in the approval. If you do not receive zoning approval, locate your business at a permitted location.
Establish your business structure. Meet with a certified public accountant experienced with small manufacturing and home-based businesses. Consult with a commercial insurance agent as well. Obtain a business license, as well as other needed permits, from your city or county clerk's office. Finally, contact your state department of revenue to determine your need for a sales tax license for your finished products.
Analyze the machine shop market. Machine shops can specialize in one product or service, and market that commodity to many buyers. Conversely, a machine shop can change equipment configurations for each customer's specifications. Locate potential regional competitors before you select your product line. Evaluate competitors' products to discover unfilled niches. For example, you may find a demand for plating shops, and no plating services nearby.
Design your machine shop layout. Look at your available space, and identify planned products or services. Determine the equipment required to accomplish the work, along with the proper work flow for each product or process. Create a shop layout that allows sufficient space to complete the work and minimizes equipment hazards.
Purchase your equipment and supplies. Order the machinery and shop supplies needed for completion of your selected products. Order blank machine stock before you produce each customer's order. Required machinery varies with the nature of your operation. For example, if you specialize in drilling services, you'll likely require several drill presses. For metal marking operations, amass chemical or engraving equipment. If you're planning larger-scale operations, evaluate the cost-effectiveness of computer-controlled machinery.
Obtain firm customer orders. Contact companies that need your products or services, and express a desire to bid on the firm's next order. Study the customer's specifications, and factor in your machinery, supply and shipping costs. Ask your accountant for assistance if necessary, and make the price beneficial for both parties. Submit the completed quote to the customer along with a cordial introductory letter. Contact the customer to answer questions and complete the contract paperwork.
Design a production schedule. Evaluate your customer's product and quantity needs, along with the required time line. Working backward, create a production schedule that allows you to produce the parts, or complete the services, without compromising quality or risking personal injury or equipment breakage.