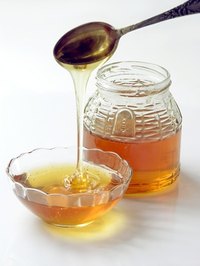 A scratchy and painful sore throat can threaten to sideline you from your daily responsibilities and activities. Instead of suffering with this annoying pain every time you swallow, make a honey lemon remedy for a sore throat. Using the natural soothing properties of honey and combining them with the citrusy goodness of lemon, you can help your sore throat feel better to enable you to continue your daily routine.
Things You'll Need
Lemon
Cutting board
Paring knife
Small cup
Teakettle
Teacup
Honey
Metal teaspoon
Place the lemon onto the cutting board and cut it in half with the paring knife. Remove as many seeds as possible from the lemon halves. Squeeze the lemon halves into the small cup to make fresh lemon juice. Continue squeezing both lemon halves until you have removed as much juice as possible. Set the lemon juice aside.
Fill the teakettle with water and boil the water. Fill the teacup approximately 3/4 full with hot water.
Add equal amounts of lemon juice and honey to the hot water in the teacup. Stir the honey and lemon water with the teaspoon to combine the ingredients well.
Allow the water to cool enough to enable you to drink it comfortably. The warmer the water the more soothing it will be on your sore throat, however.