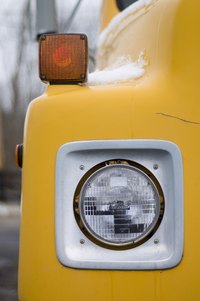 You can expand or start a cold product business by leasing a small refrigerated truck. Cold and frozen products that are transported in coolers and on ice present major time and space limitations to a business owner. The capabilities of a small refrigerator truck opens a business up to potential money-making opportunities by extending both storage space and holding times. Lease options allow the business owner to get the small refrigerated truck the business needs right away without committing a large amount of cash.
Research commercial truck dealers in the local area on the Internet. Give them a call or visit their websites to see if they carry small refrigerated trucks. Look for information on the website or ask the dealer about in-house leasing programs.
Go to the website of a major refrigerated truck supplier like Penske or Ryder and see if the leasing plans they offer are competitive with those at the local dealers you contacted. See Resources.
Contact the company or dealer that provides the small refrigerated truck you need with an acceptable leasing option. Many commercial truck leases are structured to allow the business to make small payments for the first few months until profits come in from using the new vehicle.
Set the lease deal for the period you will need the small refrigerated truck. Most small refrigerated truck leases start at 36 months and can be extended for as long as 60 months. Choose a flexible lease if possible so that the small truck can be traded in for a larger one in the future without incurring a penalty.
Sign the lease papers for the small refrigerated truck once you have fully read and understood each detail of the terms. Ask the leasing agent to explain or amend anything you do not understand or have a problem with.