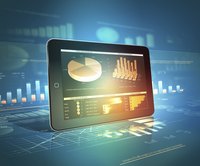 If your company operates in an industry for which legal fees are considered a normal cost of doing business, you can use statistics on legal fees as a percent of revenues as a benchmark for comparison to gauge their impact on your business relative to its peers. This may be particularly useful for companies that operate within highly regulated industries. Use benchmark data obtained from companies highly comparable to your company.
Public Company Data
Public companies may be larger, but they can still be subject to many of the same business risks that affect your company. Once you have identified comparable companies, refer to their Securities and Exchange Commission Form 10-K reports to obtain legal expenses. These data should be disclosed within the income statement or the notes to the financial statements.
Data Providers
You can also use data provided by financial data providers such as Dun & Bradstreet or Risk Management Association's Annual Statement Studies. These companies compile data from smaller companies, so the data may be more comparable than that obtained from public companies. The disadvantage to using these sources is that they are rarely free. Some allow you to pay on a per-item basis, allowing you to request legal expenses as a percent of revenues for your peer group.
Benchmarking
If you use public company information, find the revenue figures so you can divide legal expenses by net revenues. Data providers should give the data in this format. From this point, you can choose your own parameters for comparison. You may choose to use the average or median as a baseline for comparison or use the data from a company that strikes you as highly comparable.