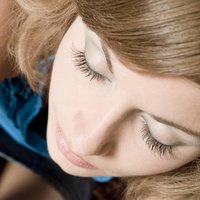 Hypoallergenic cosmetics allow you to enhance your appearance without irritating your sensitive or allergy-prone skin. When you make hypoallergenic cosmetics, you can choose your own ingredients and exercise your creativity in mixing all shades of color for your eyes, lips and face. Creating your own hypoallergenic makeup is both rewarding and beneficial to your skin.
Things You'll Need
Soy wax
Carrier oil
Vegetable butter
Goat's milk powder
Kaolin clay
Mica mineral powders (assorted tones)
Glass bowls
Disposable stirring wands
Creamy Cosmetics
Add 1 tbsp. of soy wax to a glass bowl. Soy wax is a natural, gentle wax that replaces beeswax, which can trigger allergic reactions in some people.
Add 1/2 tsp. of carrier oil to the bowl of wax. Coconut oil is popular in natural makeup formulas but you can also use rose hip oil or palm kernel oil.
Add 1/2 tsp. of vegetable butter to the bowl. Soy butter, hemp seed butter and others are natural butters that add moisturizing boosts to cosmetics.
Microwave the bowl on high for three minutes to melt the wax and oils together thoroughly.
Stir in 2 tbsp. of goat's milk powder to the melted mixture. Goat's milk is naturally hypoallergenic and adds moisturizing and clarifying properties to skincare products. It also gives them a creamy consistency.
Add up to 3 tbsp. of mica mineral powder to create a color of your choice in this basic cream recipe. This creamy base can be used as a lipstick, foundation, concealer, eyeshadow or blush, depending on the color blend you choose to use.
Powder
Add 1 tbsp. of goat's milk powder to a bowl. Add 1 tbsp. of kaolin clay to the powder. Kaolin clay is a natural mineral clay powder used in mineral cosmetics and other products.
Add your own blend of mica mineral powder to the bowl totaling 2 tbsp. Depending on the colors you choose, this powder can be a face powder, eyeshadow, blush or mineral powder foundation.
Cover the bowl and shake it to mix the materials together thoroughly. This light hypoallergenic powder glides over your skin with ease when applied with a kabuki brush.